About Us

Our company Lumens Leathers India Limited was incorporated in the year 1982, at South 24 Paraganas, Kolkata, India. We are a manufacturer, supplier as well as exporter and importer of wide range of leather products that includes Genuine Leather Gloves, Genuine Leather Wallets, Genuine Leather Bags, etc. Our business was incorporated as family run fine leather processing and finishing facility. We have been in this leather industry for more than 30 years. We have skilled craftsman with years of experience, and have been improved over years of service in this domain. Our products are highly appreciated for the durability, alluring shape and perfect designs. These are also famous for their perfect finishing and have helped us acquire a firm foothold in both industrial and fashion sectors.

Quality Checking

In order to satisfy our customer and maintain our reputation in the market, we always ensure to provide best quality products. Thus, we maintain stringent quality checking methods. We strictly check our manufactured products in order to deliver damage free products. Our offerings are also properly packed and stored to ensure safe delivery without any delay. Every record of input and output products is maintained and kept under strict supervision. Apart from these, to assure quality of our products, we store them in de humidifying condition. We pack these in best quality packaging materials and are properly marked and labelled. Final checking of offerings is done before dispatching these to our clients. Some parameters on which products are checked are:

Shape and designing
Feel and durability
Stitching and finishing
Infrastructure

Infrastructure is the real asset of our company. We have well equipped infrastructure with highly advanced technology that is well maintained by our experts. The wide range of our manufacturing machines includes Cutting Machine, Splitting Machine, Handle Forming and Trimming Machine, Spray Machine etc. Specific machines are used for specific purposes. Again, these are also properly maintained and kept under regular surveillance. All the functioning is done under guidance of our experts. This helps us in smooth running of our manufacturing processes. Our Infrastructure also includes a warehousing facility. All our products are properly stored in specified places and are correctly marked and labeled. Proper records of incoming raw material and outgoing finished goods is also maintained by our experts.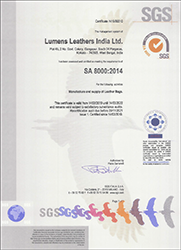 Read More